Moda Polska was Poland's most celebrated postwar fashion house and one of Eastern Europe's greatest success stories in the clothing industry
One of Eastern Europe's greatest success stories
Moda Polska was Poland's most celebrated postwar fashion house and one of Eastern Europe's greatest success stories in the clothing industry. With shows in New York, Leipzig, Paris, Cairo, Kiev, Moscow and Sochi, Moda Polska collaborated with Warsaw's very best designers—many of whom were regular visitors to Paris Fashion Week—and Poland's biggest textile and shoe manufacturers to create a range of clothes and accessories for every season. The company had dozens of boutiques in the most prestigious areas of Poland's largest towns and cities.

In 1958, the Ministry for Domestic Trade decided to create a state-owned clothing company. It was founded by Jadwiga Grabowska and Kaya Mirecka- Ploss, a former concentration camp prisoner from Poland who had studied fashion design at Saint—Martin's College of Art, London after the war. Moda Polska's beautiful and inspiring collections were a world away from the drabness of communism. Their creators wanted to showcase socialist Poland as a modern, open-minded country, hence the fashion shows in New York and Paris. Their exclusive made-to-measure designs were worn by the wives of the world's most prominent communist politicians, including Jovanka Broz, wife of Yugoslav dictator Josip Broz Tito. The company even organised special mini-shows for the spouses of these political worthies. Some of Moda Polska's collections were exported to countries such as Finland, Germany and the United Kingdom.

Despite the fact that the company's catwalk collections could rarely be found on general sale—they were supposed to serve as templates to be imitated by clothing manufacturers. When the limited edition collections were released, lengthy queues of excited customers would form outside stores — bringing Warsaw some much-needed prestige and glitz.
Their exclusive made-to-measure designs were worn by the wives of the world's most prominent communist politicians

A member the Chambre Syndicale de la Haute Couture in Paris, Moda Polska's fashion shows were both a window to the world and an exclusive social event. The now iconic neon sign with Moda Polska's "swallow" logo (designed by Jerzy Treutler) shone down from the side of a Warsaw high-rise office building—this advert would become a symbol of the modernity of the nation's capital.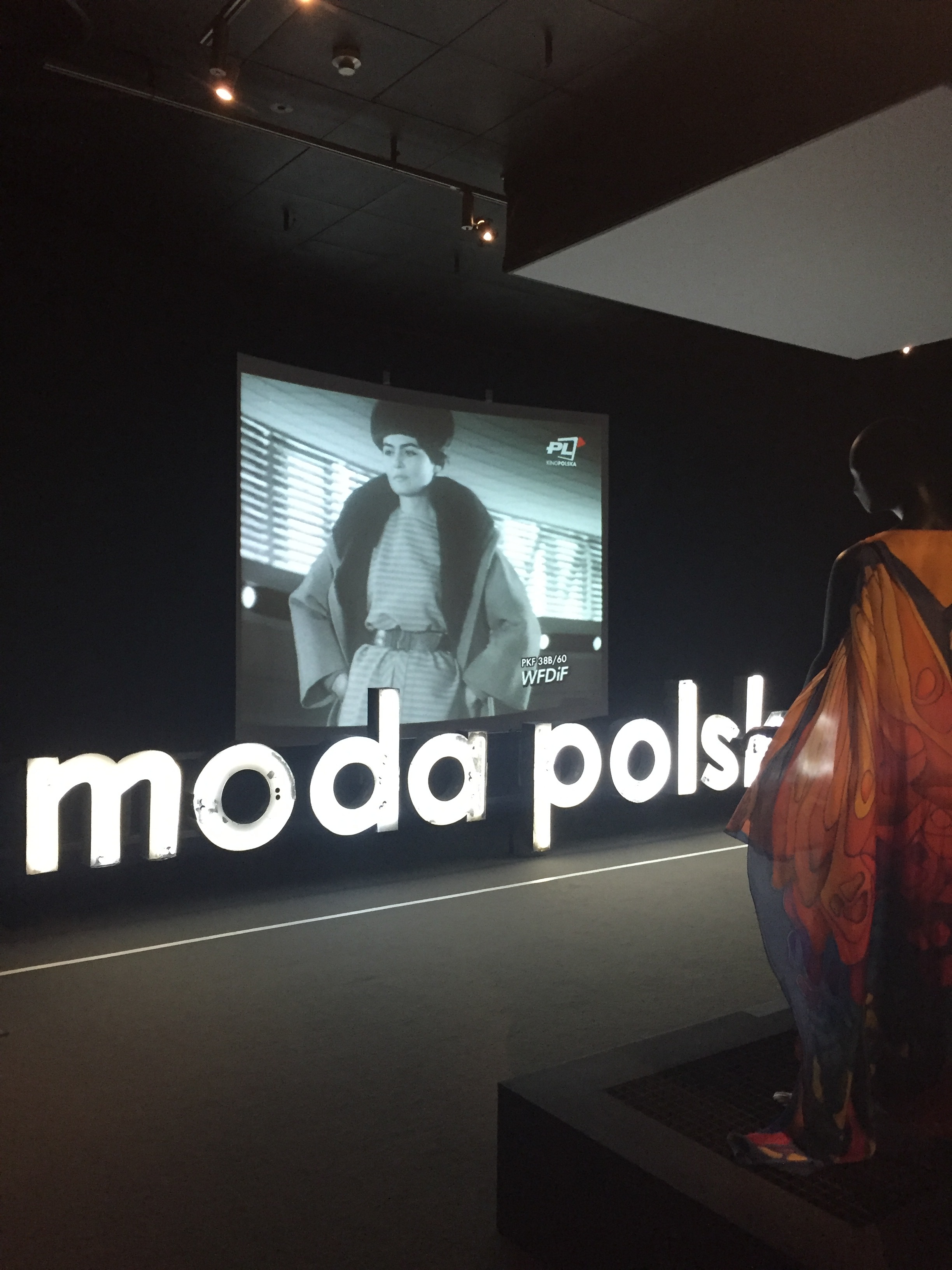 Moda Polska's "swallow" logo designed by Jerzy Treutler; Moda Polska neon in National Museum Krakow at Fashionable in Communist Poland Exhibition
Moda Polska came to an end in 1998. The company never really made it through the economic change—it simply wasn't designed to operate in a free market economy. Also, tired by the crisis in the 1980s, Poles were relishing the foreign goods which now flooded the market. People no longer wished to invest in Moda Polska; had things worked out differently, the label would undoubtedly have been a commercial success and a source of national pride in 2016.