Justyna Chrabelska first show took place in the prestigious poster museum in the Wilanów district of Warsaw. This is the oldest poster museum in the world
Justyna Chrabelska is one of the faces of Polish fashion. She admits that all her clothes are produced in Poland and is a keen supporter of the country's fashion and textiles industry.
"Tere are very good sewing factories and still a lot of great tailors. We must support them before they disappear," says Justyna. A graduate of the painting and graphic design course at the capital's Academy of Fine Art, Chrabelska takes the elegant simplicity much loved by the women of Warsaw, adding sporty and feminine decorative elements. Almost all of her collection features mixed geometrical motifs with foral elements. The delicate nature in her design meets with a modern architecture and urban spirit.
Justyna Chrabelska started her fashion label in 2007 and her first show took place the following year in the prestigious Poster Museum in the Wilanów district of Warsaw. This is the oldest poster museum in the world, having been opened in June 1966 to mark the 1st International Poster Biennale. Holding her show there was a demon-stration of her artistic background and she would strengthen this image through the use of Wiorika Zagórowska's work, whose paintings became the face of the brand.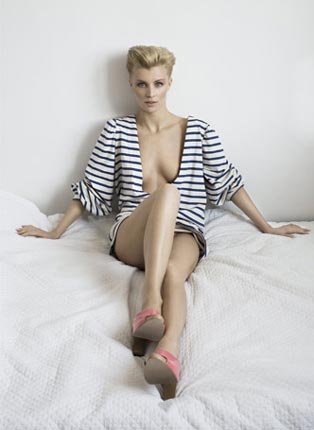 Wiorika Zagórowska wear Justyna Chrabelska collection
Chrabelska's style is both minimalist and romantic. It is a world where geometric shapes and organic elements mix freely. Te curves and frills in her designs resemble fower petals or leaves while her brightly-coloured hooded tops and shorts conjure up images of sun-kissed surfers on the beaches of California or, indeed, the Hel Peninsula, a high-class getaway on the Baltic Sea favoured by Varsovians for its immaculate golden beaches surrounded by dunes, pine forests and blue sea.
Retro infuences also feature in Chrabelska's collections, including airy 1970s-style dresses. Chrabelska is also a talented designer of acces-sories, including distinctive triangular clutch bags, striking bag-pouches, rucksacks playfully sprinkled with frills, and silver sandals made from fne leather. Chrabelska combines saccharine elements and geometric shapes in her accessory designs. Lingerie and clothing for children are also part of a broad fashion arsenal.
Justyna Chrabelska's atelier is situated on Warsaw's elegant Frascati Street, right next to the Sejm, the Polish Parliament and the President's Ofce. Built in 1936, the building at 3 Frascati Street exemplifies the distinctive luxurious-but-functional Warsaw architecture, which blends simplicity and elegance and is neatly mirrored by Chrabelska's unique style.